Here are 11 reasons why Montenegro should be on your bucket list right now.

Being the smallest fully recognized Balkan country and the smallest country in Europe, Montenegro has become a trendy travel destination in recent years.

In addition to having the seventh highest number of UNESCO protected areas per square meter in the world, Montenegro is home to the deepest canyon in Europe. The Tara River Canyon is the second deepest canyon in the world, just after the Grand Canyon. Visit Ulcinj, the longest beach on the Old Continent. And not to forget the southernmost fjord in Europe and one of the world's most beautiful bays – The Bay of Kotor.

In other words, Montenegro boasts a variety of spectacular contrasts that satisfy even the most demanding world travelers and explorers. This is because of its exceptional landscapes, imposing mountains, enchanting Adriatic Sea, idyllic villages, top-notch gastronomy, and incredibly rich history and culture.

Are you still not convinced? Among the reasons to visit Montenegro and the experiences to seek are as follows:


---
1. The geographic location
The geographical location of Montenegro makes it one of the most budget-friendly European destinations. From north to south, its small size allows you to travel quickly, easily, and cheaply.
Montenegro's geographical location makes it easily accessible from the major European markets.
With its excellent transport links throughout Europe, Montenegro is also a great place and starting point to explore all of the Balkans due to its central location. For example, Rome is 1 hour and 20 minutes, Vienna is 1 hour and 30 minutes, and Istanbul is 1 hour 45 minutes.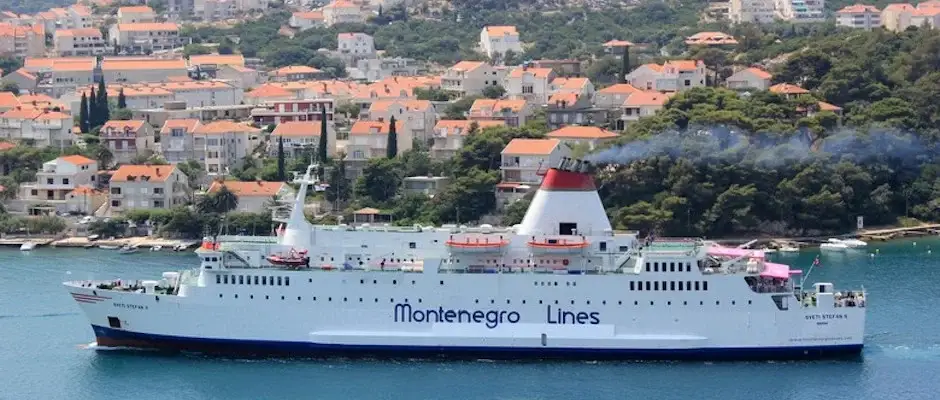 ❐ The ferry connections from Bari and Ancona (ITA) to Bar (MNE) are excellent if you decide to reach Montenegro by sea.
---
2. Diverse natural landscapes
Considering how much natural diversity can be found with every move you make. In Skadar Lake National Park, a lake with an area of 475 km2, the water even goes below sea level at several points. This makes it a top spot for bird-watching and observing flora and fauna. The Dalmatian pelicans are the only species of pelican left in Europe, so you can see them here, too. In the Biogradska Gora National Park, Montenegro boasts one of three remaining rainforests in Europe, despite its abundance of water.
Furthermore, when it comes to water, the Tara River Canyon at Durmitor National Park has a depth of 1300 meters. This is the second-longest canyon in the world after the Grand Canyon of Colorado.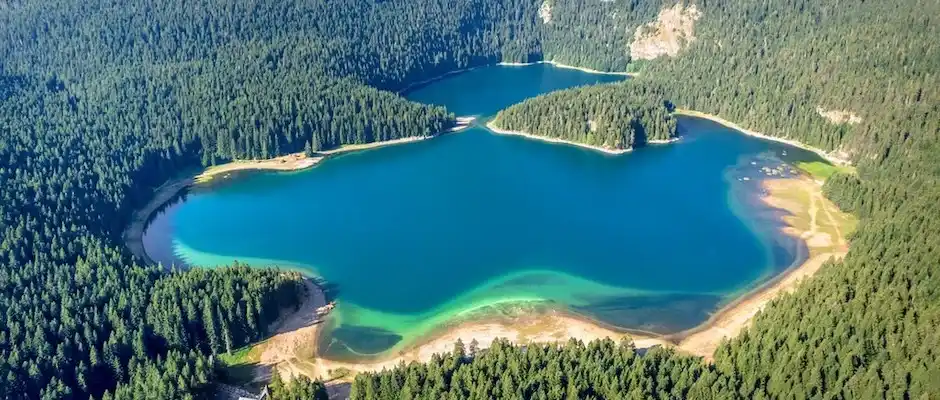 ❐ There are 18 glacial lakes located in Durmitor National Park in northern Montenegro. Still, Black Lake is the most beautiful of all of them.


---
3. A paradise of Adriatic Sea beaches
In contrast to Croatia's coastline, which is no longer the hidden gem it once was, Montenegro's coast remains relatively unknown to tourists. Whether you choose pebbles in Kotor, sand in Budva, or long ocean-like beaches in Ulcinj, you can't go wrong with the crystal-clear turquoise sea no matter which beach you choose.
In Montenegro, on average, you will find 240 sunny days per year in average, so you're sure to find a beach you'll love.
A symbiosis of beauty, islands, peninsulas, luxury marinas, bays, diverse beaches, and river confluences defines the Montenegro sea, forever linked to the glory of the Bay of Kotor.



❐ Budva and Sveti Stefan regions have beautiful pebble-stoned beaches.


---
4. Boka Kotorska (Kotor Bay)
The Bay of Kotor is one of the most beautiful bays in the world and is rightfully called the jewel of Montenegro. Its most notable feature is its abundance of rivers and streams that run from the mountains and flow into the sea, making the water less salty. Boka Kotorska is known especially for its natural beauty and family atmosphere in coastal towns and cities.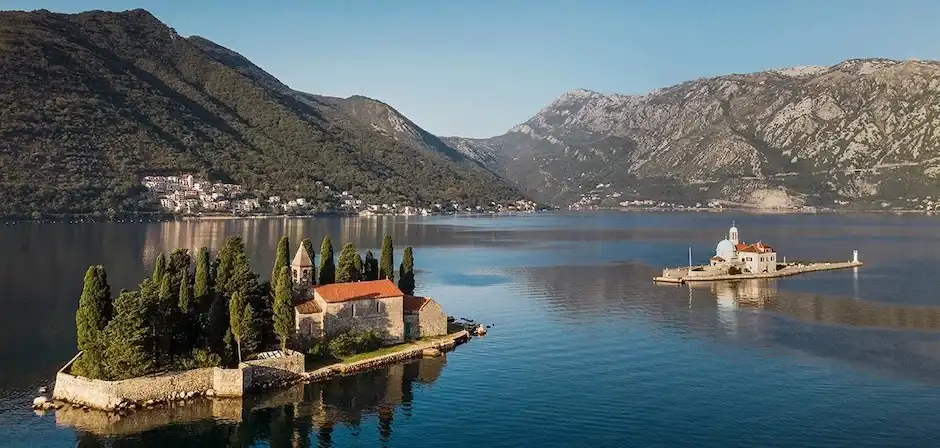 ❐ The Bay of Kotor is a unique natural and cultural entity consisting of Kotor town and the well-preserved medieval towns of Perast, Risan, Tivat, Herceg Novi, and Prcanj.


Kotor
It was once this region's leading cultural, administrative, and commercial center. 'Framed' by the sea and two rivers, the city is surrounded by impressive walls and rugged ramparts. The city has numerous palaces and churches, but the Church of St. Luke stands out with its Catholic and Orthodox altars. In the Old Town, the beautiful Renaissance and Baroque city gate dates from the 16th century and overlook the sea.
St. Trifona Cathedral is a major tourist attraction in Kotor's Old Town, considered the oldest cathedral in Europe. In addition, the church building is 69 years older than the world-famous Notre Dame de Paris Cathedral. A narrow street called "Let me pass" runs through the Old Town of Kotor. For two people, it isn't easy to pass through.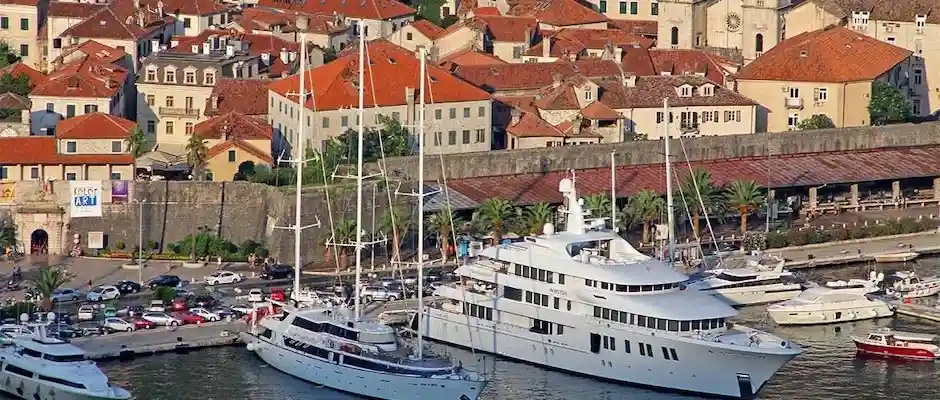 ❐ An almost 8km-long, 20-meter-high, and 16-meter-wide set of well-preserved city walls dating to the 9th and 18th centuries. The walls guard the city against the fortress of St. John at the top of the hill. This tour takes about an hour, and the sunset view of Boka is impressive.


Perast
This picturesque city is known as one of the best-kept secrets in the Adriatic region. An area of exceptional natural beauty surrounds Perast, which is listed as a UNESCO world cultural heritage site.
A rich and powerful era can be seen in the city's architecture. According to its appearance, it resembles Venice, or at least a small part of it.
Even though this town only has one main street, it has close to 20 palaces and 16 churches.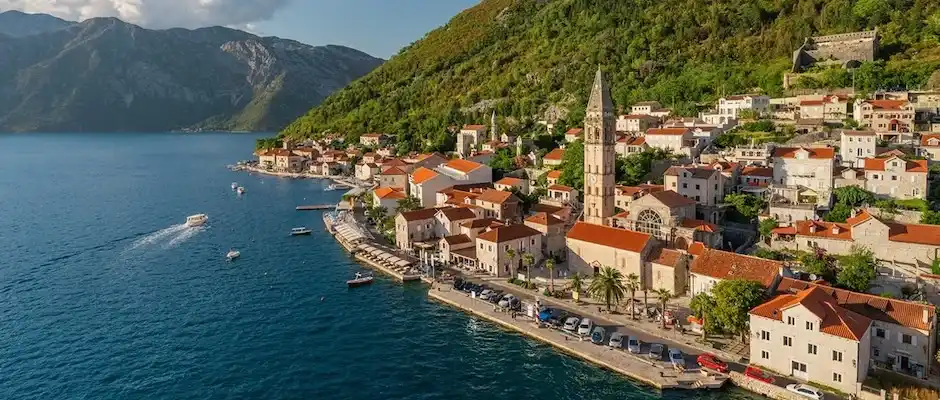 ❐ Beautiful Perast is situated west of Kotor, on the other side of the Strait of Verige.


Our Lady of the Rocks
St. George Island is a small island in the bay with a 12th-century Benedictine monastery named after the island's founder. There is a church built in 1632 on an artificial island near its location called Our Lady of Rocks (Gospa od Krpjela).
Local fishermen allegedly found an icon of the Virgin Mary and her child in the 14th and 17th centuries after a shipwreck. The fishermen believed this was a divine act of God, so they added a stone after each successful voyage.
The island thus created was used to build a church. Every year, the islet grows hundreds of years after its creation. In honor of the island's anniversary, locals drop stones from their boats on July 22nd, before sunset.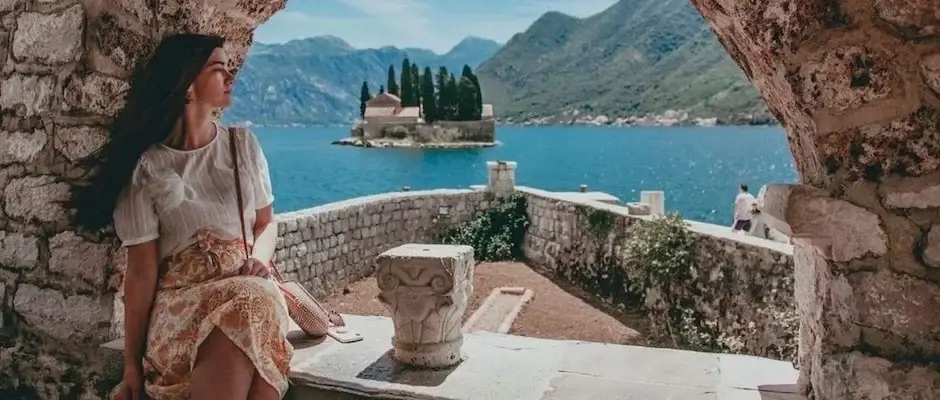 ❐ A pair of islands: Sveti od Ore and Gospa od Krpjela.


Porto Montenegro
Naval settlement Porto Montenegro was built on land once occupied by the Sava Kovaević institute, called Arsenal. After the former famous military shipyard transformed the local population into hardworking and skilled craftsmen, the Arsenal began working in 1889 by pulling its first ship out of the water.
Due to the new shipyard, Tivat grew quickly into a city with a number of facilities, following the rapid development of Arsenal. Currently, their descendants operate a range of nautical, catering, and other activities, which are classified as 5-star tourism.
Porto Montenegro has established itself as a premier nautical, lifestyle, and fashion destination. There are luxury hotels and an impressive marina there, making it an excellent choice for any time of year.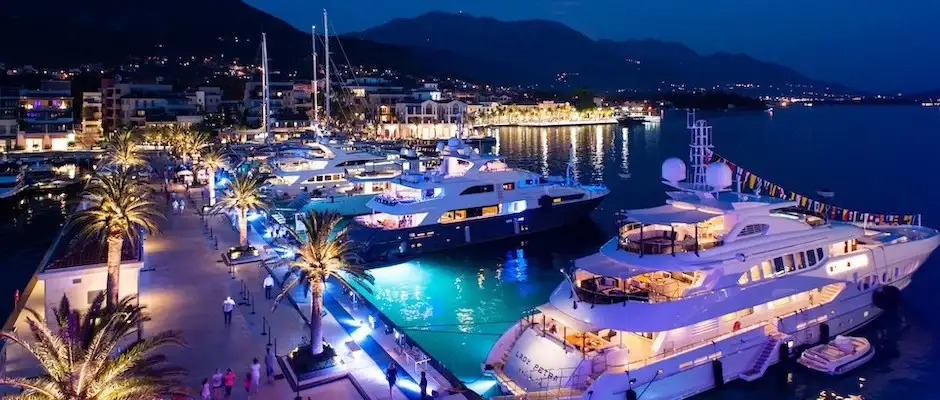 ❐ Porto Montenegro and Tivat marina.


---
5. Unbeatable hiking options and impossibly high mountains
In addition to its fantastic sea and beaches, Montenegro offers some of the best mountaineering in Europe.
It gets its name because 80% of the country is mountainous
(Montenegro: 'Black Mountain'). Prokletije, Komovi, and Rumija are just some of the best mountains, and Durmitor National Park is a must-see.
You can discover hidden lakes, deep canyons, rainforests, canyoning, jeep safaris, quad safaris, sport fishing, and kitesurfing. In winter, you can take advantage of the three ski centers, so Montenegro isn't just about lying around on a sunny beach.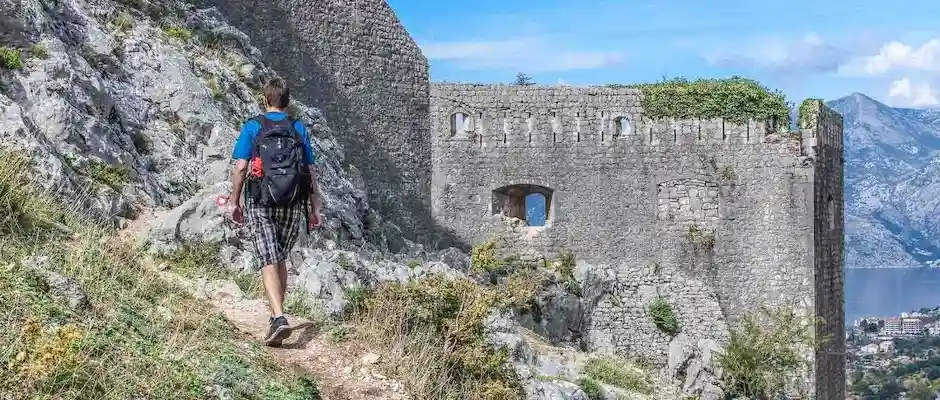 ❐ Old fortress near Kotor.


---
6. A rich history of rebels
Montenegro has a long history and culture dating back to the 6th century, with its location at the crossroads of east and west. There are many different civilizations colliding and crashing on Montenegrin soil nowadays.
Because of its impenetrable mountains, Montenegro was hard to get compared to some other countries in the region. In the Ottoman Empire, the local tribes lured the Turks into the mountains and left them to starve to death. Countless powers have fought over the centuries over this small country that is likely the size of your average town (population: around 630,000). This country is immensely proud of its rich and rebellious history.
Visit the old towns and admire the ancient Illyrian castles, Venetian walls, Roman mosaics, and the abundance of monotheistic religious objects.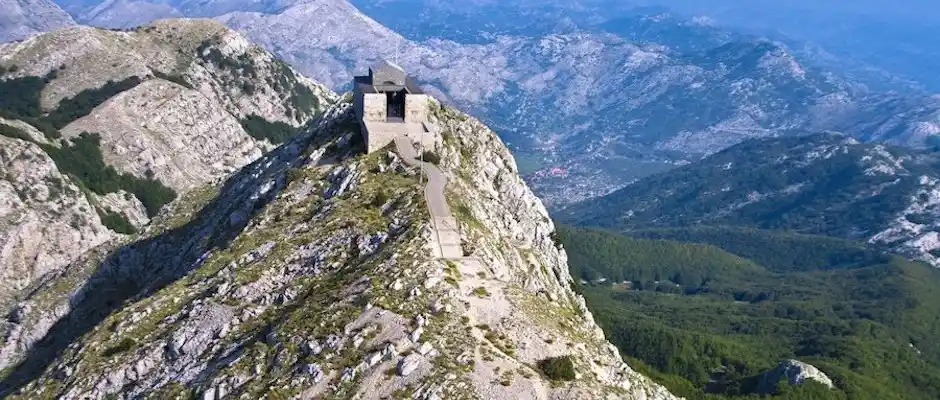 ❐ In Lovcen National Park, you'll find the mausoleum and resting place of Petar II Petrović-Njegoš, the country's greatest leader who brought modernity to Montenegro.


---
7. Nightlife is booming
There are an array of nightlife options available in Montenegro, allowing everyone to find something to their taste. You shouldn't miss open-air clubs, bars with live music, or parties on the beaches of Budva, known as 'Montenegrin Miami'.
The favorable weather conditions, with hot summers and equally warm nights, make a good time easy to arrange. Party fever is at its height at the beach, and there is a lot of dancing on offer, but watching the madness of dance fever can be just as much fun.
You will find it no matter what you are looking for in this country. The atmosphere and music will most likely determine where you choose to spend your time. Trance festivals, blues, cozy jazz atmospheres, hard rock concerts, and joyful folk and dance podiums are everywhere.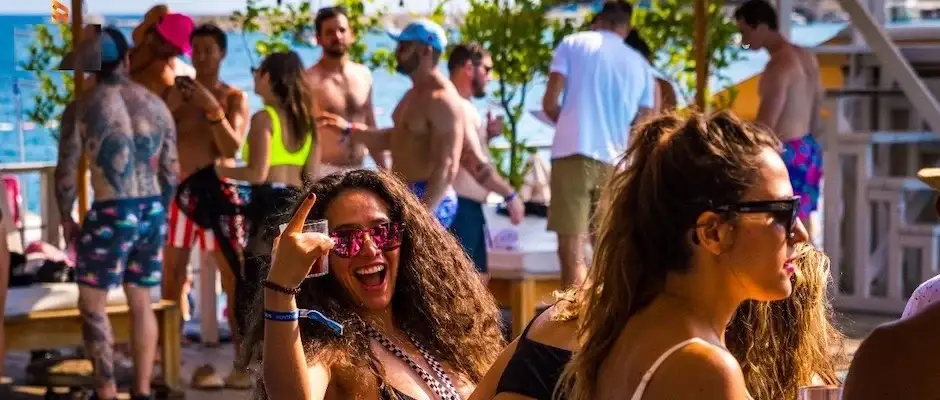 ❐ Budva is a haven for beach festivals and parties, known for its hedonistic lifestyle. The Balkans' largest nightclub is also located here.


---
8. Cuisine that is top-notch
There is no way you can visit Montenegro and not enjoy the food. The diverse regions, climates, and influences of Turkish, Austrian, Hungarian, and Italian cuisine have all influenced Montenegrin gastronomy. There is seasonal fish and seafood, risotto, salads, and cheeses in the south, as well as meat, cheese, and prosciutto in the north.
It is undeniable that Balkan food is a fantastic experience for the taste buds, but Montenegro's menu variation is unmatched. As a fishing paradise, Montenegro offers a variety of tasty local seafood dishes.
Fish, olive oil, cereals, and salads are the essential ingredients of every Montenegrin meal. Crayfish, octopus, mussels, clams, and other seafood are all part of the cuisine. The most common method of preparing fish here is grilling it with aromatic herbs and garlic, frying it, or cooking it in a thick fish soup (brodet).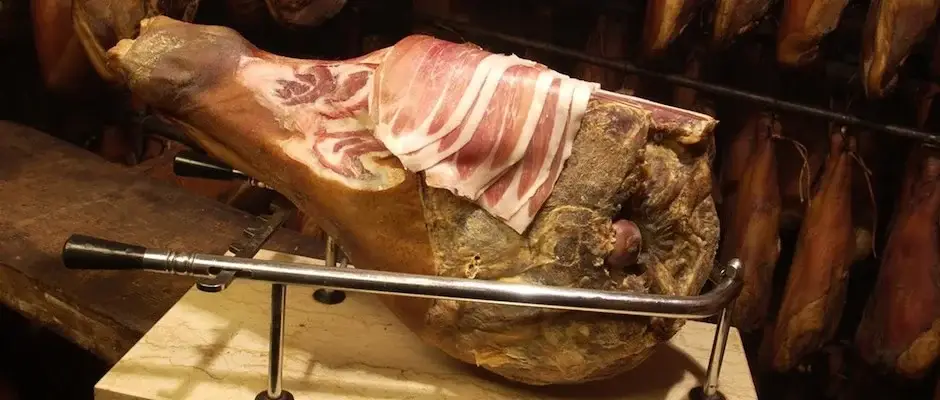 ❐ A meat lover should seek out the Njegui prosciutto when discovering the impeccable Montenegrin local products and cuisine.


---
9. Yachting
During the summer, Montenegro has an average temperature of 27°C and a sea temperature of 25°C. Excellent fishing conditions, imposing mountains, only fourteen (small) islands, and ancient harbor towns that maintain their character make it an ideal yachting destination.You can explore Montenegro in depth by heading out to the deep blue waters and discovering hidden beaches and secret caves along each small shore. Whether you own a yacht or simply rent a yacht at a very affordable price with Noblesse Yachts. For example, one of our superb motorsailers such as Dalmatino, can make your trip to Montenegro one of the most luxurious you have ever made.
Here is a Link that displays yachts Montenegro in ascending order of guests. Several filters are located at the top. Can't find the right yacht? Please submit a request. Not all our yachts can be presented here.



❐ You can fulfill your yachting dreams in this country no matter your budget. One of the best things about this unrivaled destination is that it offers a bit of luxury previously out of reach for most of us.


---
10. The Budva and Sveti Stefan islands
A top-rated tourist destination in Montenegro is Budva. The settlement is protected by the Lov'en-Pastrovi mountain ranges. It is considered among the oldest on the Adriatic coast.
Massive fortifications were built around the peninsula in the 14th century to defend the citadel and the old town. Enjoy the old town's maze-like medieval atmosphere by strolling through its narrow alleys.
At the end of the bay, just opposite Budva, lies the stunningly beautiful island of Sveti Stefan. Twelve families founded the fishing village in the 15th century. When Ottoman times were dangerous, each family had a stone house surrounded by fortified walls that served as a hideout.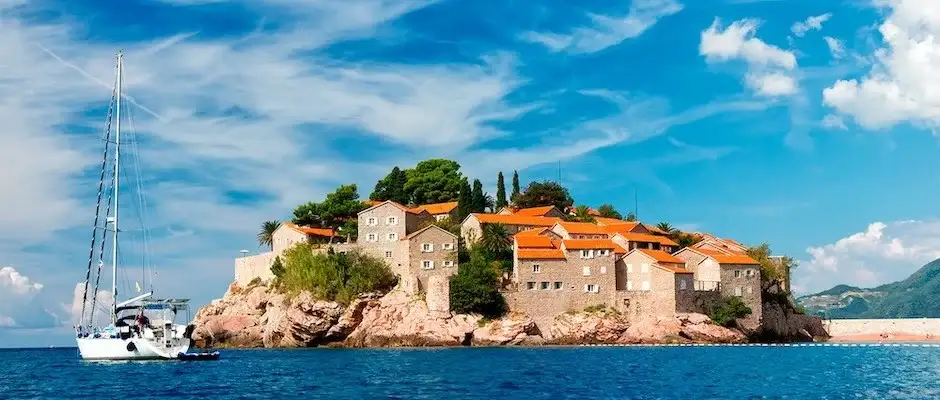 ❐ The most luxurious resort in Montenegro can be found in St. Stefan today. Celebrities visit it, and its beaches are known for their incredible beauty.


---
11. Great people and great hospitality
Known for their respect for family and hospitality, Montenegrins are among the most hospitable people in the region. Whether you're enjoying luxurious resorts or simply indulging in small local communities of farmers and fishermen, you're in the safest place possible.
It is unknown when or why the stereotype of Montenegrins as lazy began.
Of course, it is a joke, but Montenegrins are indeed known for being very relaxed. They love to live life to the fullest, to the heartiest of their abilities, and in accordance with some of the rules:
• "Love your bed as much as you love yourself."
• "Help someone who is resting."
• "Sit down, wait, and you'll see it will pass."
Even though they make jokes, Montenegrins are honest and hardworking people who will go the extra mile to ensure you enjoy their paradise to the fullest.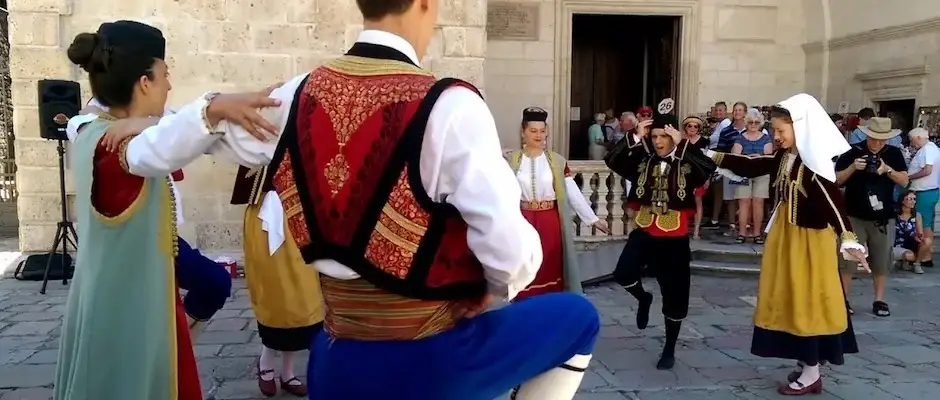 ❐ While in Montenegro, it's normal to sing in the street for no reason but just because you feel like it, so relax, have a good time, and sing.


24/7 at your service. For more information read our FAQ-Section or email us:
Also check out our Youtube-Channel.
---
Note about copyright: This text is copyrighted by us and you may copy and use it only with a link to our website along with a clear indication of our authorship. Thank you!