Where vintage and classic yachts come alive.
Launched in 1995, Monaco Classic Week is a unique gathering of classic sail and motor yachts, as well as 12′ Dinghies. It is a biennial event that takes place in the waters off the coast of Monaco. Next to several classic and vintage boat races, the Monaco Classic Week also features many different shows, competitions, live entertainment, and a truly special experience overall. Beyond the sporting aspect and results, Monaco Classic Week keeps alive a rare and exclusive passion for beautiful vessels on the water. Several prizes boost the involvement and total commitment of owners to preserve their boats, the legacies of a timeless marine culture. 
Join us aboard and be part of the Monaco Classic Week gathering!
What is the Monaco Classic Week?
The Monaco Classic Week is an annual event in the waters off the coast of Monaco, organized by the Yacht Club de Monaco. It is a celebration of the beauty and elegance of sailing, and it is a true showcase of the timeless appeal of these classic and vintage vessels. It's a must-attend event for sailing enthusiasts and boat lovers from around the world.
The event features a wide variety of classic and vintage sailing boats, including sailboats and motorboats, and it includes both competitive racing and non-competitive cruising. The boats that participate in the Monaco Classic Week are typically wooden yachts that have been restored to their original condition and range from pre-1976 to pre-1950, providing an opportunity to see the evolution of boat design over time.
In addition to the sailing events, the Monaco Classic Week also includes a variety of social activities, such as shows, concerts, parties, and exhibitions. The event also features a Concours d'Elégance, where the boats are judged on their aesthetic appeal, as well as their sailing performance, making it a true celebration of the craftsmanship and beauty of these vessels.
What is included in the package deal?
We understand the importance of a comfortable and enjoyable stay. That's why we take great pride in hand-picking the finest accommodations for our guests, which provide the ultimate in luxury and comfort, ensuring you have a peaceful and revitalizing stay. Our top priority is to ensure that you have a memorable experience, and that starts with a good night's rest.
Discover the epitome of luxury and comfort at the historic, freshly renovated private Villa perched atop the stunning hills of Cape Martin above Monaco. Immerse yourself in a dreamlike setting, with breathtaking views of the Bay of Monte Carlo, the enchanting castle of Roquebrune, and the majestic mountain scenery in the background.
Take a dip in the spacious 12 x 4-meter pool and bask in the sun on the beautifully landscaped terraces and gardens. Marvel at the spectacular sights of the world's largest and most extravagant private yachts anchoring in the bay below. This is the perfect place to relax after an exciting day of regatta competition.

Whether you're here to take part in the Monaco Classic Week sailing events or simply to enjoy the atmosphere, you can rest assured that we have taken care of all the details to make your stay as enjoyable as possible.

From the comfort of your Villa to the delicious breakfast served each morning, we have thought of everything to ensure that your time with us is nothing short of perfect. Get ready for the ultimate sailing experience with us!
Included in your package: 
Free shuttle service from and to Nice airport (NCE)

Sip on champagne at the exclusive welcome gathering

6 days in a luxurious hilltop villa with pool, elevator, secure carport and breathtaking view

Mouth-watering breakfast every morning

The villa gets professionally cleaned daily and stocked with beverages, fresh fruit and snacks

Convenient on-site shuttle service to take you to the marina and evening events

Choose to actively race or relax on board with a professional skipper and crew

Learn the ropes with a 1-day

Hallowe'en

 briefing and maneuver training at sea

Experience the thrill of 4 exciting racing days

Fresh-made sandwiches and snacks aboard, as well as non-alcoholic beverages during sailing and racing

Celebrate with a "Splice the mainbrace" of champagne, beer, and wine back in the marina after each sailing and racing day

Dance the night away at the lively evening parties with entertainment 

Show your team spirit with provided uniform polo shirts and caps

On-site event support throughout the event

End the regatta on a high note with closing and award ceremonies, an open-ended party and big fireworks, and farewell champagne

Receive a participation certificate and nautical mile confirmation for your seaman's book if desired

Relax knowing all taxes and fees are included
Not Included:
Food and drinks during official events are included, but the price of the package does not cover any additional consumption outside of these official events. This contains, but is not limited to: consumption after the official end of these events, dinner at restaurants, drinks at bars, and the like.
How much does the Monaco Classic Week package cost?
Early Bird Offer (until 31.03.): € 12.200,- per person
Regular Price (after 31.3.): € 12.850,- per person
APA: € 600,- per person
This includes all the services mentioned above, like transfers, hotels, and the yacht charter fee.
The event manager will set up a designated account (APA, or Advance Provisioning Allowance) to cover your expenses during the event. We understand that everyone has different preferences for evening meals and drinks, so they will allow each guest to make their own choices. Additionally, in Southern European countries, it is not common to pay individually in restaurants. The event manager will distribute the costs accordingly and transfer any remaining funds to you, along with a detailed calculation after the event.
Secure your spot on the beautiful Hallowe'en and be part of the famous Monaco Classic Week.
Please note, that this action is a payable event. After submitting, you will receive an invoice and further instructions.
Prices are in €, per person, including VAT. Please note, that the APA is obligatory for the event you are attending.
Book Vele d'Epoca di Imperia or Regates Royales Cannes additionally and receive a 5% discount on your invoice! Don't miss out on this amazing opportunity to experience the best of the sailing world while saving a little extra.
Our classic regatta events.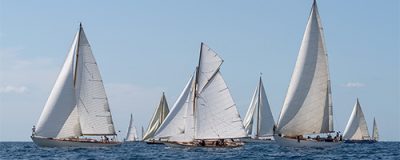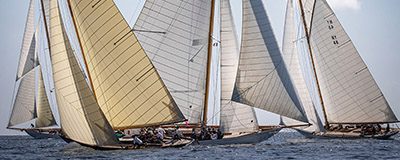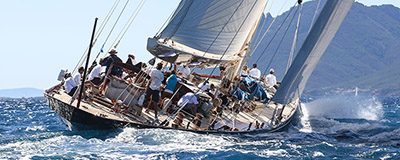 24. SEPTEMBER - 1. OCTOBER 2023
More about classic sailing yacht Hallowe'en.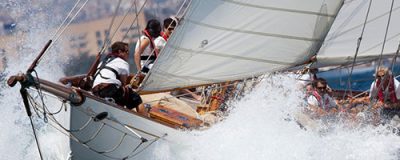 Relive the classics feeling