Join a classic regatta aboard the beautiful sailing yacht Hallowe'en.
Hallowe'en is a charter sailing yacht available for racing and cruising in the Mediterranean. But she is not just any yacht – she is a stunning example of craftsmanship and engineering, a true masterpiece of sailing, a treasure to behold, and a testament to the skill and vision of William Fife.
This year, we have exclusive charter rights for Hallowe'en for some of the most famous regatta races in the Mediterranean. Step aboard in Italy, Monaco, or France and be part of an adventure of a lifetime. Learn sailing handlings and manoeuvres first-hand from Hallowe'en's experienced crew, join actively in the regatta action, and help her race to victory once again. But if you feel more like leaning with the waves and feeling the breeze in your hair, then there is, of course, no obligation at any point to help with the handling of the yacht – the choice is entirely up to you. 
With a crew of 3 and 12 guests aboard, availability for these unique events is limited.
Make sure to save your spot on time for the following dates: 
Vele d'Epoca di Imperia: 6. – 11. September 2023 in Imperia, Italy.
Monaco Classic Week: 11./12. – 17. September 2023 in Monaco.
Régates Royales Cannes: 24. September – 1. October in Cannes, France.
To ensure your stay with us is nothing less than perfect, we designed an all-inclusive package for each of the above events. These packages include accommodation in hand-picked hotels, dedicated shuttle service, evening entertainment, delicious breakfast, catering aboard yacht Hallowe'en during the races, and much more. Want to upgrade your experience even more? Ask us about our special add-ons, like the golf & regatta experience. Combine your love for golfing with your passion for the sea, and make your vacation truly unforgettable.
Which events does yacht Hallowe'en attend?
We exclusively chartered the classic sailing beauty Hallowe'en for this year's Vele d'Epoca di Imperia, the Monaco Classic Week, as well as the Régates Royales Cannes. Make sure to secure your spot in time, as we are limited to 12 guests per event. This means that you will have the unique opportunity to actively or passively join the sailing races during these events aboard the authentic Hallowe'en.
Can I actively join the sailing aboard yacht Hallowe'en?
Yes, of course, we encourage you to! On the first day, the experienced crew of Hallowe'en will introduce you to all safety measurements and handlings, as well as guide you throughout the whole regatta event. Take the chance to be part of the winning team and show your knowledge! Should you, on the other hand, prefer to just enjoy the thrill of the race and the salty breeze on your skin without actively joining the sailing, then the decision is all yours at any time.
How many days of sailing are there during the regattas?
This depends on the event. At the Vele d'Epoca di Imperia and the Monaco Classic Week we will have 1 day of sailing training on water, as well as 3 active racing days. If you are looking for even more action, the Régates Royales Cannes is the event to be! With a 1-day sailing training and 5 full race days, you'll be able to call yourself a true sailor after crossing the finishing line on the last day. Attending the regatta races is at no time obligatory. If you ever feel like skipping a day of sailing, the choice is yours at any time. We have plenty of activities for you to choose from to make your stay as perfect as possible.
What is the history of yacht Hallowe'en?
In 1926, William Fife III launched the 24.7m cutter Hallowe'en. According to William Fife III, designer of a number of classic yachts still racing today, "Hallowe'en is the perfect gentleman's yacht. She is a jewel".
When gaff-rigged racers dominated various regattas, he chose to rig the yacht as a low-aspect Bermudan cutter. Her mast and boom heights continued to change over the years, and eventually, she was transformed into a yawl.
Under new owner Alfred Larsen, a Norwegian industrialist, she returned to the Atlantic after racing in the Mediterranean for several years. The yacht became the official yacht of the Royal Norwegian Racing Club and was helmed by Prince Olaf numerous times. Following her transatlantic journey in 1938, she vanished from radar screens. She was further renamed Cotton Blosson IV by Walter Wheeler and continued her history of ocean racing before eventually being donated to the Classic Boat Museum in New Port, Rhode Island, for a much-needed refit.As a result of funds drying up in New Port, Hallowe'en was in need of a new owner and returned to the Mediterranean when Elizabeth Meyer (owner of J-Class Endeavour) assisted in finding a buyer.
From 1988 to 1991, Hallowe'en was carefully restored to her original lines at the Classic Boat Works in Newport, Rhode Island. All sawn English Oak frames were carefully repaired or replaced, and the planking was secured with bronze fasteners from the museum. Having undergone some major changes in France in 1994, she underwent another transformation in 1998, perhaps looking better now than ever. After several refits (and owners), she is now available for charter in the Mediterranean, where she races competitively in the classic regatta circuit spanning France, Corsica, Spain, and Italy. The latest refit was performed in 2009 by Fairlie Restorations on the Hamble river, UK.
Things to know about S/Y Hallowe'en.
Our classic regatta events.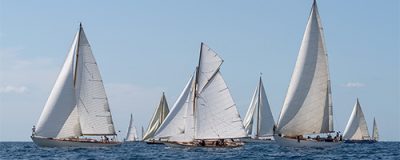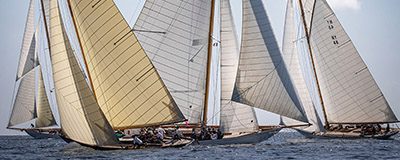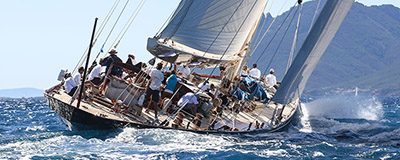 24. SEPTEMBER - 1. OCTOBER 2023